Dog friendly private beach at Pulau Sibu
By Lucas's friend - 10 Oct 2023
I watched an IG reel that said if you bring your dog on a trip every year, you only have 12 trips in their lifetime. This hit me so strongly that I decided to take Lucas to a beach where he could roam freely. Lucas is a water lover and enjoys lakes, rivers, and pools, so I really want him to experience the beach.
I discovered this place at Pulau Sibu called Sea Gypsy that allows you to bring your dog with you. However, I understand that there is a lot of unclear information circulating online. I hope this has helped clarify some of your questions about it.
Transportation ⭐️⭐️⭐️⭐️⭐️
Drive from KL to Tanjung Leman (Johor) and search for "Parking Terminal Jeti Tanjung Leman." It took us 5 hours to reach, and surprisingly, the jetty is very private with fewer people, which is great.
The parking area is right next to the boat entrance, where you can see if the boat has arrived. Purchase the marine ticket, then wait in your car until you see a staff member in a Sea Gypsy uniform. Then, walk your dog directly onto the boat.
The boat ride takes about 30 minutes. It was Lucas's first speedboat experience, and he was a bit nervous but could tell he was happy from his face.
The Island ⭐️⭐️⭐️⭐️⭐️
The island featured crystal-clear waters, soft sandy shores, and excellent cleanliness, along with a long beach. Even though there were wild boars, they appeared to be more scared of Lucas. We spent a lot of time at the beach and also enjoyed a spacious grassy area in the middle of our accommodation.
Activities ⭐️⭐️⭐️⭐️⭐️
Here comes my favorite part of the trip: the snorkeling spot we visited, called Pulau Mentigi.
It was a beautiful sandbank, and there was no one else around! The entire sandbank was all ours, allowing us to enjoy some free diving while leaving Lucas on the beach. The water was exceptionally clear, and the current was gentle, making it safe for Lucas to swim with us. We spent a fantastic 2 and a half hours at the sandbank.
They have amazing marine life; if you have someone to care for your dog, you can participate in diving trips.
You can rent kayaks, stand-up paddleboards (SUPs), and bodyboards from the activities center. Starting in January, they offer surfing lessons too.
Room ⭐️⭐️⭐️
Dogs are not allowed to roam in the room. We brought a soft kennel for Lucas, which we purchased from Shopee, so he could stay in the room.
We pointed out areas where they could make improvements, and they took note of our feedback.
We're uncertain if it's due to the season, but we experienced mosquito bites even inside the bed net. Therefore, please remember to bring enough insect repellent with you during your visit.
The room doesn't have AC because they promote eco-friendliness on the island, but it can get quite warm inside the bed net since it blocks the wind from the fans.
The toilet was clean, and we have no complaints about it.
Food ⭐️⭐️⭐️
Considering the price we paid, we had higher expectations. We received the fish dish repeatedly, which was disappointing. But the last day we finally voiced it out and got beef for our dinner, which was great!
Staff & Service ⭐️⭐️⭐️⭐️⭐️
The staff were incredibly friendly and welcoming, with energetic vibes, and provided us with everything we needed.
Price ⭐️⭐️⭐️
While to us, it's on the expensive side, but the experience for Lucas was a solid 100%. So I guess if he were to rate he would rate five stars for the trip. There's no other place in Malaysia where dogs can run freely on the beach like this.
Extra Info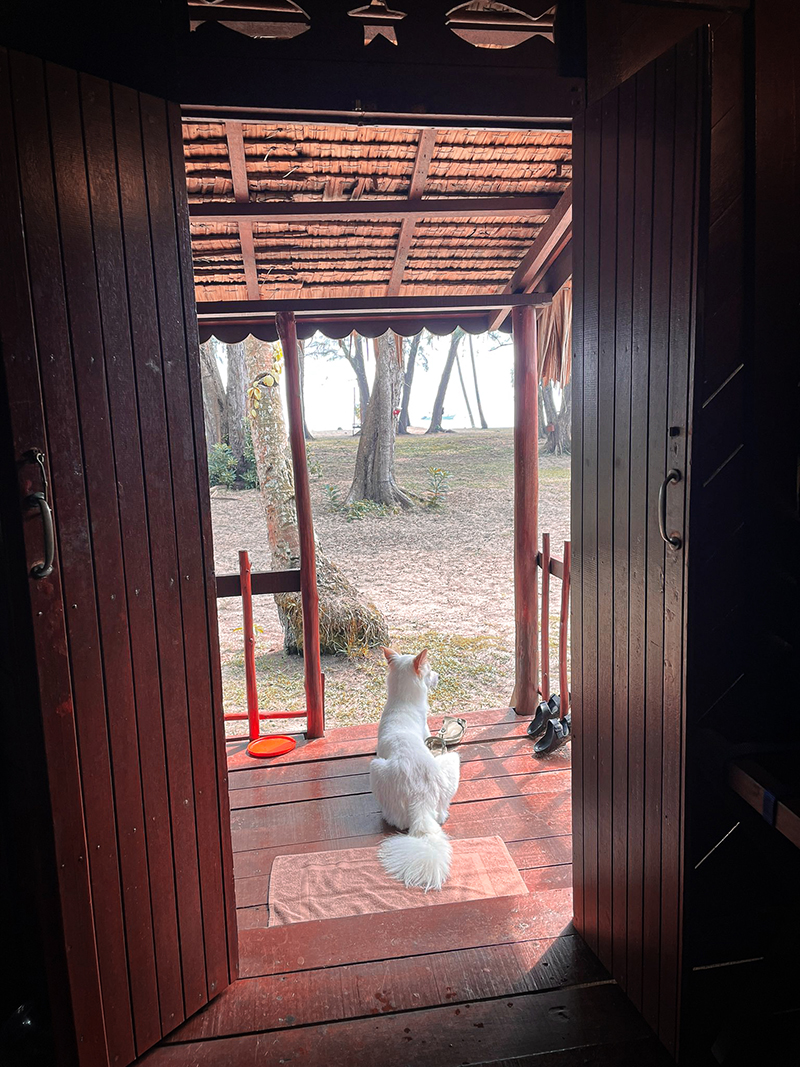 - Dog can be off-leash and enjoy unrestricted running.
- There's a dedicated pet shower area.
- The package covers only the room and meals, activities such as snorkeling, hiking, and diving - price is not included in the fees.
- Dogs are not allowed in the restaurant and bar, but there is a designated staircase area where Lucas can stay.
- Cats are not allowed.
*Disclaimer: This review based on our personal experience and may not be applicable to everyone. Individual outcomes may vary. 😊
Share this places
Facebook
Recent discovered places